Intel 'Solar for Schools' project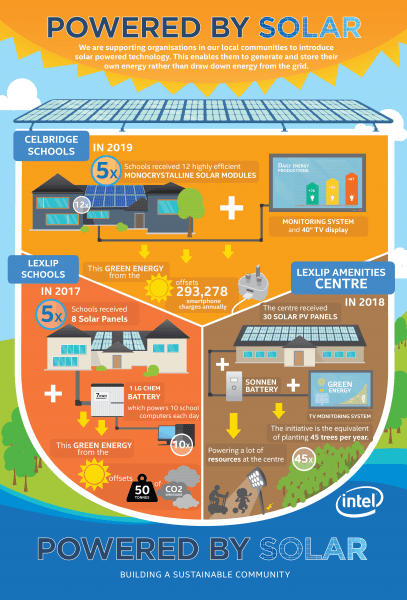 Introduction:
October, 2019 – Intel Ireland unveiled the latest expansion of the 'Solar for Schools' initiative – this latest expansion of the project involved five schools in the Celbridge area. The project also involved further expansion, to include Maynooth, at a later date. It is a unique and innovative solar technology project that enables schools and community organisations in Kildare to generate their own energy supply directly from the sun
The Project:
The project installation work started with Leixlip schools in 2017, then Leixlip Amenities Centre in 2018 and Celbridge schools in 2019, followed by Maynooth schools in 2020.
Solar Technology:
Solar module technology is to be installed in each of the participating schools allowing these energy users to generate their own energy rather than draw down energy from the grid. The aim of the project is to increase community focus on sustainability and create a greater understanding of how renewable energy and storage can help serve our energy needs.
A Note from Intel:
In relation to the Solar for Schools in Kildare initiative, Director of Public Affairs at Intel Ireland Hugh Hardiman has said, "The work that schools and their students, through the likes of their green school committees, are doing to support environmental sustainability is really to be admired. At Intel, we were keen to support that great work and to support local schools as they embark on their renewable energy journey. I hope that together we can make a real impact towards a sustainable environment."
Intel Newsroom
METNS 'Our School is Powered by Solar':
In July 2020, as part of the latest expansion of the project, Maynooth Educate Together NS receive a solar package which included; 12 highly efficient monocrystalline solar modules along with a monitoring system and a wall mounted TV in the hallway of the school, to display the live output and a plaque to mark the event.